ArcGIS Pro Tips & Tricks
From March 14, 2023 1:00 pm until 2:30 pm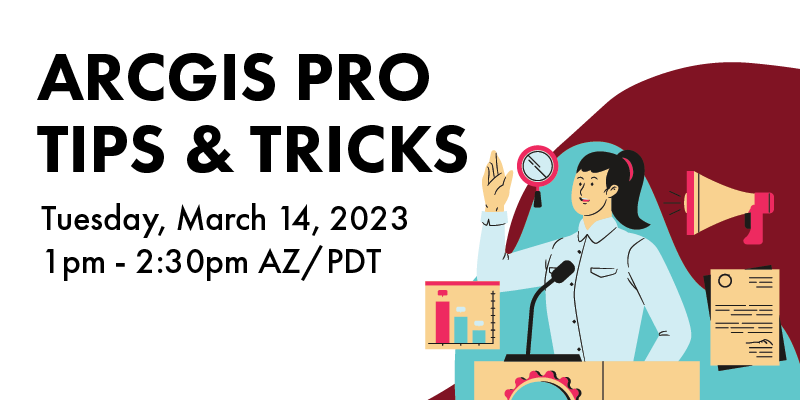 Join us for a session on Tips & Tricks in ArcGIS Pro lead by Tanya Owens. Register to get the Zoom connection details.
Agenda:
Welcome - Announcements
Presentation
Open Discussion
Speakers
MS-GIST, GIS Specialist at Westland Resource

Ms. Owens has sixteen years' experience in cartography and GIS, specializing in ArcGIS Pro/ArcMap and AutoCAD programs. Her work experience includes the creation and formatting of databases, maps, and illustrations for public resource, archaeological, and environmental reports intended for both client and governmental agency review. She is skilled in the publication of GIS web map applications, and has extensive previous experience with designing, organizing, and managing geodatabases with associated metadata used in project planning and regulatory compliance. Ms. Owens has organized and analyzed spatial and related data for numerous Private clients, Federal agencies and State entities in both Arizona and New Mexico. In addition to data management, organization and quality control, her role in these projects included researching archived permits, deeds, and other pertinent records; digitizing the location of existing features and facilities; and linking attribute data to GIS spatial data to create interactive web applications. Ms. Owens expertise includes the optimization and organization of data for display in interactive electronic and print production formats. In her current position, Ms. Owens is responsible for the GIS needs for WestLand Resources Flagstaff office. Her duties include the format and preparation of digital data for webmap applications, as well as for the maps and figures for all produced reports. Ms. Owens is tasked with supervising the department's transition to ArcGIS Pro and is responsible for developing training for WestLand GIS employees in the software.