Continuing the Conversation: Women's Voices in GIS
From April 15, 2022 1:00 pm until 3:00 pm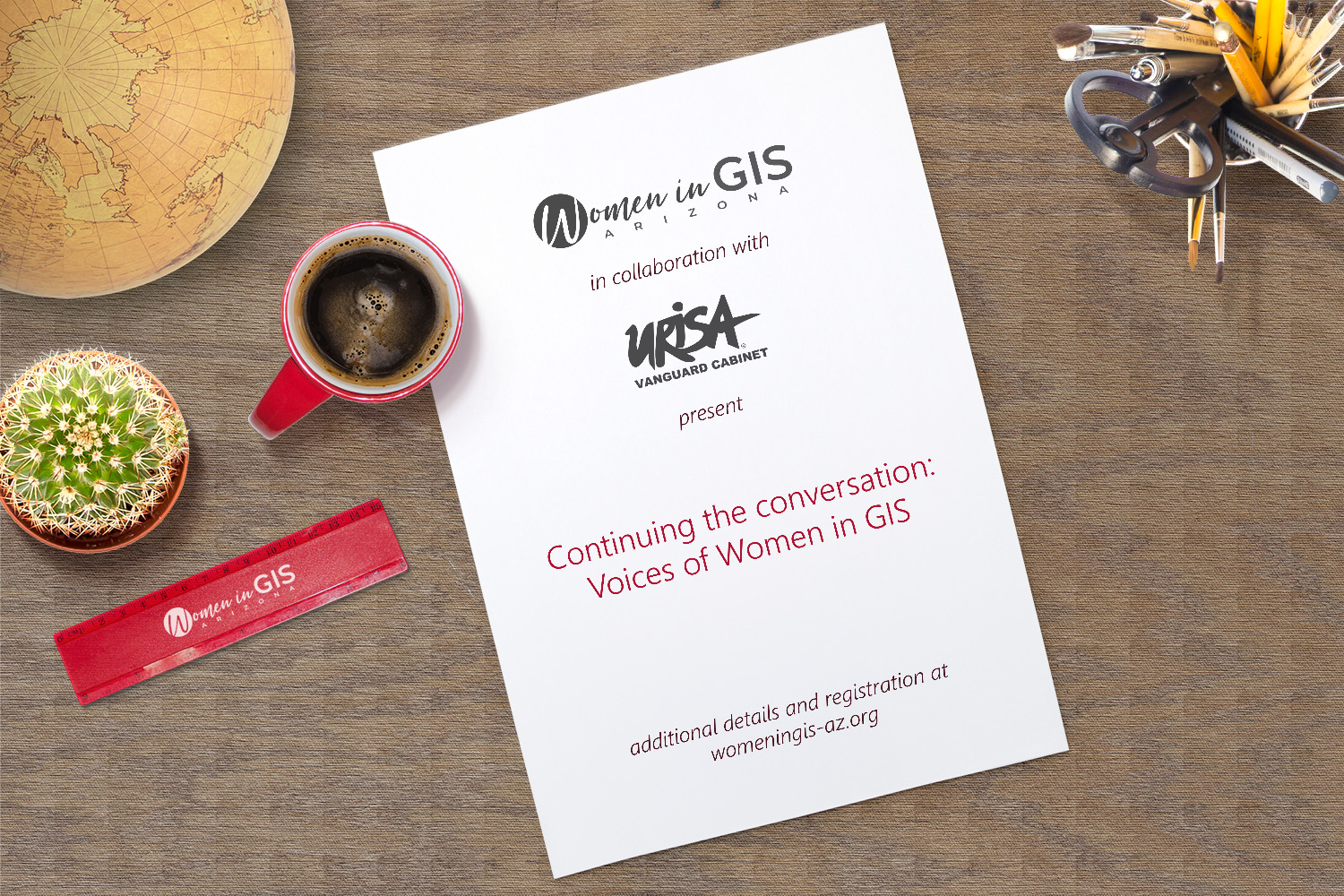 The Arizona Chapter of Women in GIS is partnering with URISA's Vanguard Cabinet of Young GIS Professionals to bring you an afternoon of conversation with women at various stages in their GIS careers.
Join us via Zoom on the afternoon of Friday, April 15, 2022 from 1pm to 3pm (Arizona/Pacific).
We'll hear from each of our panelists on how they got started in GIS followed by a moderated Q&A with the panel. Then you'll have an opportunity to ask the panelists questions. Come listen, learn, and connect with women in GIS!
Meet our panelists! Click on the images below to learn more about each of our panelists.
Register now so you don't miss out!
NOTE: all times are in Arizona time zone, which is currently the same as Pacific Daylight Time (Arizona does not observe Daylight Saving)
Speakers
Jane has been pursuing a change of career to the field of Geography and/or GIS and is a novice. Starting out as a fledgling filmmaker, she ended up in broadcast television production for years, before deciding a change was needed. She pursued geography and cartography classes at her local community college while raising a very young family and taking care of ailing parents. Her love of maps, places, languages, and conservation/environmental science is driving her to pursue opportunities to strengthen her GIS skills and find employment. She has had a variety of other temporary jobs along the way, including archives, and public health analysis. She is an avid photographer and musician in her time off.

Lyndsay Zemanek is from Washington state, which inspired her love for tall trees and taller mountains. She earned her bachelor's degree in mathematics and took a gap year to apply for graduate programs, during which she decided to enroll in a GIS course. This course quickly changed her path, leading her to the University of Michigan! She's currently finishing her masters in the School for Environment and Sustainability with a focus in geospatial data science. Her masters project work has focused on classifying the urban tree canopy and identifying turfgrass within Ann Arbor, Michigan using GIS and remote sensing methods. She is beyond excited to return to Washington upon graduation to begin a career in GIS!

Sara Thompson has been in the GIS industry for two and a half years. She graduated from Arizona State University with a bachelors in Biology and a minor in Business. During her time at ASU, Sara also completed a GIS certificate. She began her GIS career after completing a conservation internship in Yellowstone National Park. She returned to Arizona and began working at an engineering consulting firm as a GIS technician, where she worked for two years. This sparked Sara's interest in transportation GIS, and last October she began working for the Arizona Department of Transportation as their Geospatial Section Analysis Manager in the Planning Department.
I have been with NOAA's Marine Chart Division since 1999 beginning as a nautical cartographer; currently I am the Chief of a Production Branch within the Marine Chart Division. Additional responsibilities include answering litigation and FOIA requests.

Currently, I serve as the Department of Commerce's Member to the U.S. Board on Geographic Names (BGN); as a voting member at the Domestic Names Committee (DNC) and Advisory Committee on Undersea Features (ACUF) meetings.

I have been with Montgomery College, Rockville Maryland campus, since 2001 as adjunct faculty in the Applied Geography Program teaching cartography and GIS.

My education consists of applied geography (AAS), business administration (BBA); and parks and recreation resource management (MS).